48HourVisit.com

Planning a short visit? Check out

48HourVisit.com

, your online guide for short stays and weekend getaways.

Ad
Sitting in the Baltic Sea just off the western coast of Estonia, Saaremaa is the largest and the most populous island in the country. Overrun by swaths of pine and spruce forests, this 2,700-square kilometer parcel of land is home to some 40,000 people. The island bears an extensive past, with a history dating back to thousands of years. It was ruled by numerous empires such as the Germans, Dutch, Swedish, and the Russians.
Its potential as a tourist destination was discovered by foreign visitors at around 1940, when the island was still known as Arensburg. Many tourists are drawn to its spa and wellness resorts where one can relax and pamper the body.
The highlight of a visit to Saaremaa is Kaali, a group of nine craters formed by meteorites that struck the island thousands of years ago during the Holocene Era. It is said that the impact unleashed a force equivalent to that of the Hiroshima atomic bomb, creating holes in the ground that reach up to 110 meters in diameter. Today, the craters have become like small lakes, and are actually considered by the locals as sacred. It is also believed to have been the site of numerous ritual sacrifices during the ancient times.
Another attraction worthy to be seen is the Kuressare Episcopal Castle, a palace-looking fortress that is said to date back to the 13th century. Archaeological evidence shows that the structure was originally made out of wood, and was only reinforced by stone a few centuries later. It served as the seat of power for the Saaremaa royalty, as well as a defensive stronghold. Its architecture looks eerily like a convent; thus its name. There is also Karujarv, or as it is commonly called, "Bear Lake." Estimated to have been formed almost 8,000 years ago, it is considered as the oldest lake in Saaremaa. Its lush banks are ideal for picnic.
Nature enthusiasts may want to make take a detour to Vilsandi National Park, which is situated in the island's western coasts. Sprawling to an area of roughly 238 square kilometers, the park was established in 1914 as Vaika Bird Reserve. It includes over 160 islands and islets. It is home to no less than 250 species of bird life, making it an ornithologist's deligh.
User blogs:
Cheaper galactic spaceliner unveiled
News from http://news.ph.msn.com/top-stories/article.aspx?cp-documentid=3737940 Richard Branson unveiled Monday a commercial spaceliner offering tourists a cheaper chance to experience the thrill of weightlessness and view the splendor of the Earth from space. The British billionaire hopes to offer tickets aboard his spacecraft at a cost of 200,000 dollars each, giving adventurous ... Read full Blog post
Indonesia Eco Tourism
Tour Itenaray Day 01 BALI - LABUAN BAJO – RINCA ISLAND – KOMODO ISLAND (L.D) Pick up from your hotel in Bali and transfer to the airport, for flight to Labuan Bajo (West Flores) for approximately one and half hours. On arrival in Labuan Bajo airport, will be welcomed and met with our local representative or tour guide. Than transfer to the harbour to catch a boat cross to Rinca ... Read full Blog post
San Gimignano and San Pellegrino
Night falls on the flourishing and industrious San Gimignano, its 72 towers stand on the low roofs of the houses lit by the moon. This is not a luxury travel spot but is something you don't see every day. In the distance the clatter of hooves echoed tired in the Via Francigena. The hand of the blacksmith stops beating, the frame of the weaver becomes silent, the streets of the tank only a concert ... Read full Blog post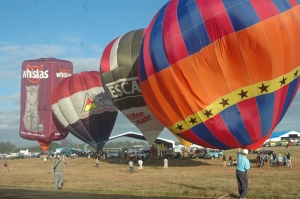 An Aerial fiesta in Clark Pampanga
Its a party in the sky as multi colored hot air balloons piloted ny different pilots from various partso of the world participated in this annual gathering. As early as 5am, the 2,500 hectare aviation complex at Clar Economic Zone in Pampanga was already crammedi with excitement. Clusters of hot air balloon participants busily prepare their own balloons for liftoff as they need to take advantage of ... Read full Blog post