48HourVisit.com

Planning a short visit? Check out

48HourVisit.com

, your online guide for short stays and weekend getaways.

Ad
Rakvere is not only the fifth largest city in Estonia; it is also one of the oldest and most historical. Found in the country's northern region, the town and its first settlements are believed to predate 1250, the time when it was first mentioned in records. The town is most noted for having been ruled at one time by the legendary Teutonic Knights. The city's history bequeathed it with a rich cultural heritage, as manifested in its numerous historical sites peppered in the landscape.
The main attraction in Rakvere is the impressive Rakvere Castle, an ancient stronghold that both served as both a seat of power for the city's rulers and as the first line of defense against foreign invaders. Built in the 14th century by the Danish, it was originally made out of wood until it was destroyed by invading Germans. After which, it was rebuilt and strengthened with stone. Today, one can still see the ruins of its imposing walls and towers, as well as the maze of tiny corridors that criss-cross the complex. It is also known for being a family-friendly destination, providing ideal picnic opportunities as well as an archery salute for every visiting birthday celebrator.
Another attraction worthy of attention is the bizarre Tarvas statue, a sculpture of a huge auroch (bull) that stands by the edge of the Vallimagi Hill. Created by the famous Estonian sculptor Tauno Kangro, it was hewn out of bronze in time for the city's 700th anniversary. It weighs around seven tons, towers to four meters in height, and spans to seven meters in length. There is also the unique Kunda Cement Museum, which pays homage to the city's once-prosperous industry. Visitors are treated to displays narrating the history of the factory, as well as animations showing how cement was made. The highlight here is a room that showcases blocks of cement bearing the handprints of some of Estonia's most iconic figures.
For nature lovers, there is the Lahemaa National Park, an unspoiled wilderness that sprawls to roughly 726 square kilometers in area. Established in 1971, its landscape is characterized by dense swaths of forests, bogs, lakes, rivers, and waterfalls. Considered as one of the few remaining of its kind in the Baltic region, it is an ornithologist's delight that provides sanctuary to over 200 different species of birds. It is also home to a diverse flora and fauna, the most common being elks and wild boars.
User blogs:
Cheaper galactic spaceliner unveiled
News from http://news.ph.msn.com/top-stories/article.aspx?cp-documentid=3737940 Richard Branson unveiled Monday a commercial spaceliner offering tourists a cheaper chance to experience the thrill of weightlessness and view the splendor of the Earth from space. The British billionaire hopes to offer tickets aboard his spacecraft at a cost of 200,000 dollars each, giving adventurous ... Read full Blog post
Indonesia Eco Tourism
Tour Itenaray Day 01 BALI - LABUAN BAJO – RINCA ISLAND – KOMODO ISLAND (L.D) Pick up from your hotel in Bali and transfer to the airport, for flight to Labuan Bajo (West Flores) for approximately one and half hours. On arrival in Labuan Bajo airport, will be welcomed and met with our local representative or tour guide. Than transfer to the harbour to catch a boat cross to Rinca ... Read full Blog post
San Gimignano and San Pellegrino
Night falls on the flourishing and industrious San Gimignano, its 72 towers stand on the low roofs of the houses lit by the moon. This is not a luxury travel spot but is something you don't see every day. In the distance the clatter of hooves echoed tired in the Via Francigena. The hand of the blacksmith stops beating, the frame of the weaver becomes silent, the streets of the tank only a concert ... Read full Blog post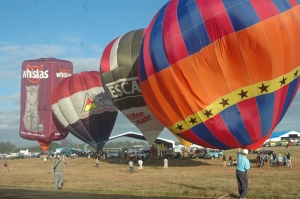 An Aerial fiesta in Clark Pampanga
Its a party in the sky as multi colored hot air balloons piloted ny different pilots from various partso of the world participated in this annual gathering. As early as 5am, the 2,500 hectare aviation complex at Clar Economic Zone in Pampanga was already crammedi with excitement. Clusters of hot air balloon participants busily prepare their own balloons for liftoff as they need to take advantage of ... Read full Blog post