48HourVisit.com

Planning a short visit? Check out

48HourVisit.com

, your online guide for short stays and weekend getaways.

Ad
Sitting on a hilltop, the quaint town of Otepaa makes up for its relative lack in size with its immense popularity as Estonia's very own "Winter Capital." Since it is known for its winter sporting activities, the town receives a rising number of visitors from around the globe.
Otepaa literally means "bear's head" in Estonian, a nod to the town's shape that resembles the head of a bear. The highlight of a visit here is indulging in skiing, snowboarding, and snowmobile-riding. The town hosts the annual FIS World Cup Otepaa Competition, which attracts some of the finest cross-country skiers around the globe.
There is even the so-called "Golden Fish" competition, which is considered to be one of the biggest winter-fisher get-togethers this side of the Baltic. The contest is largely a family-oriented affair wherein parents and children scramble to bore holes in the ice and camp with their fishing poles thrusted into the ice-cold waters, hoping to catch the main prize.
Another attraction worthy of attention is the lovely Lake Puhajarv, a popular destination regarded as one of the finest of its kind in the land. Characterized by peaceful bays, crystal waters, and small islands that pepper its surface, it is often packed with tourists taking advantage of the ideal picnicking opportunities, or just enjoying the sights.
One can also see the nearby Suur Munamagi Park, or as it is also called, the "Big Egg Hill." Towering at 318 meters in height, it represents the highest elevation in Estonia. There is also the Otepaa Ski Museum, which pays homage to the city's pride and heritage. It features displays that tell the history and development of Estonian skiing, as well as the profiles of the city's skiing greats.
Nature lovers may head to the Otepaa Nature Park, a wildlife reserve that sprawls to roughly 224.3 square kilometers. Formed from melting glaciers more than 15,000 years ago, it has a landscape characterized by groves, lakes, patches of meadow, and forest swaths. Its varied topography is an ornithologist's delight because of the many bird species that thrive in it. Among these are spotted eagles, honey buzzards, and Ural owls. One can also see diverse fauna here, such as roe deer, red foxes, lynxes, and European beavers.
User blogs:
Cheaper galactic spaceliner unveiled
News from http://news.ph.msn.com/top-stories/article.aspx?cp-documentid=3737940 Richard Branson unveiled Monday a commercial spaceliner offering tourists a cheaper chance to experience the thrill of weightlessness and view the splendor of the Earth from space. The British billionaire hopes to offer tickets aboard his spacecraft at a cost of 200,000 dollars each, giving adventurous ... Read full Blog post
Indonesia Eco Tourism
Tour Itenaray Day 01 BALI - LABUAN BAJO – RINCA ISLAND – KOMODO ISLAND (L.D) Pick up from your hotel in Bali and transfer to the airport, for flight to Labuan Bajo (West Flores) for approximately one and half hours. On arrival in Labuan Bajo airport, will be welcomed and met with our local representative or tour guide. Than transfer to the harbour to catch a boat cross to Rinca ... Read full Blog post
San Gimignano and San Pellegrino
Night falls on the flourishing and industrious San Gimignano, its 72 towers stand on the low roofs of the houses lit by the moon. This is not a luxury travel spot but is something you don't see every day. In the distance the clatter of hooves echoed tired in the Via Francigena. The hand of the blacksmith stops beating, the frame of the weaver becomes silent, the streets of the tank only a concert ... Read full Blog post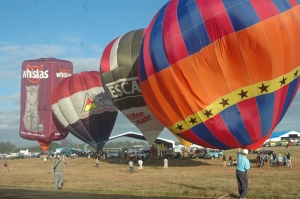 An Aerial fiesta in Clark Pampanga
Its a party in the sky as multi colored hot air balloons piloted ny different pilots from various partso of the world participated in this annual gathering. As early as 5am, the 2,500 hectare aviation complex at Clar Economic Zone in Pampanga was already crammedi with excitement. Clusters of hot air balloon participants busily prepare their own balloons for liftoff as they need to take advantage of ... Read full Blog post