48HourVisit.com

Planning a short visit? Check out

48HourVisit.com

, your online guide for short stays and weekend getaways.

Ad
Narva represents the easternmost point of Estonia, separated only from neighboring Russia via the Narva River that snakes along the border. As the third largest city in Estonia, Narva is populated by around 70,000 inhabitants. It is virtually a Russian town in essence, whether it is by culture or by appearance. Its history dates back to the Stone Age, as a fortress and trading point often caught in a tug-of-war between opposing empires, usually between the Russians and the Germans.
Narva's rich cultural heritage, however, was destroyed in 1944, just as the Second World War was nearing its end. During its liberation by the Soviet Union's Red Army, the battle almost damaged the city's entire infrastructure—so much so that it had to be rebuilt from scratch. Thus, Narva was reborn basically as a largely Soviet city, with most of its buildings now donning the typical Soviet influence in architecture. Its populace is even dominated by immigrants from the defunct Soviet Union and their descendants, with 90 percent of them using Russian as their main language, as opposed to most of the country's inhabitants who utilize Estonian.
The highlight of a visit in Narva is the impressive Narva Castle, or as it is commonly known, the Herman Castle. Perched at the banks of the Narva River, the castle was built by the Danish in the 13th century. Today, it is one of the few non-Soviet structures remaining in the city. Hewn out of stone blocks, it was able to survive the ravages of war, and was immediately restored to its former glory after the country's independence.
At the opposite side of the river is the castle's fraternal twin, the Russian medieval castle Ivangorod Fortress. It is believed to have been commissioned by Ivan III in 1492. It sprawls to area that roughly measures to 1,600 square feet. Within its thick, 14-meter-high walls is a makeshift museum that features displays of ancient artwork, manuscripts, and artifacts.
Known among the locals as Raejoka Valjak, Narva's Old Town Hall showcases a distinctive Baroque architecture. It was built from stone, following the orders of Sweden's King Charles IV in 1670. It is characterized by its eight Tuscan pilasters, ceilings and walls adorned with murals, as well as a large clock face. There is also the Voskresenky Cathedral, which is considered as one of Narva's most famous landmarks. Believed to be no less than a hundred years old, this Russian Orthodox church was built by Otto Gippius. It served as a shelter for many Estonians during the Second World War.
User blogs:
Cheaper galactic spaceliner unveiled
News from http://news.ph.msn.com/top-stories/article.aspx?cp-documentid=3737940 Richard Branson unveiled Monday a commercial spaceliner offering tourists a cheaper chance to experience the thrill of weightlessness and view the splendor of the Earth from space. The British billionaire hopes to offer tickets aboard his spacecraft at a cost of 200,000 dollars each, giving adventurous ... Read full Blog post
Indonesia Eco Tourism
Tour Itenaray Day 01 BALI - LABUAN BAJO – RINCA ISLAND – KOMODO ISLAND (L.D) Pick up from your hotel in Bali and transfer to the airport, for flight to Labuan Bajo (West Flores) for approximately one and half hours. On arrival in Labuan Bajo airport, will be welcomed and met with our local representative or tour guide. Than transfer to the harbour to catch a boat cross to Rinca ... Read full Blog post
San Gimignano and San Pellegrino
Night falls on the flourishing and industrious San Gimignano, its 72 towers stand on the low roofs of the houses lit by the moon. This is not a luxury travel spot but is something you don't see every day. In the distance the clatter of hooves echoed tired in the Via Francigena. The hand of the blacksmith stops beating, the frame of the weaver becomes silent, the streets of the tank only a concert ... Read full Blog post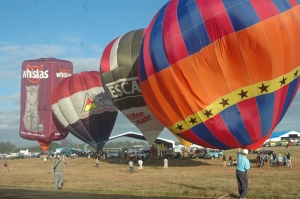 An Aerial fiesta in Clark Pampanga
Its a party in the sky as multi colored hot air balloons piloted ny different pilots from various partso of the world participated in this annual gathering. As early as 5am, the 2,500 hectare aviation complex at Clar Economic Zone in Pampanga was already crammedi with excitement. Clusters of hot air balloon participants busily prepare their own balloons for liftoff as they need to take advantage of ... Read full Blog post