48HourVisit.com

Planning a short visit? Check out

48HourVisit.com

, your online guide for short stays and weekend getaways.

Ad
Lake Peipsi Travel Guide

/
Europe
/
Estonia
/
Lake Peipsi
/ Introduction
Straddling at the border between Estonia and Russia is the immense Lake Pheipsi-Pihkva, the largest trans-boundary freshwater lake in the entire European mainland. Spanning with an area of roughly 3,500 square kilometers, with an average depth of seven meters, the lake has spawned more than 30 rivers and streams that snake their way across Estonia.
Called "Peipus" during the ancient times, the lake figured prominently in world history by serving as the venue of the so-called "Battle of the Ice," which pitted the crusading Teutonic Knights against the Novgorodians under Alexander Nevski. On April 5, 1242, the German Roman Catholic crusaders set out to conquer the land of the pagans and the Eastern Orthodox Christians as part of the Northern Crusades. The crusaders initially had the upper hand, with their forces successfully driving the opposing force into retreat. However, the Novgorodians tricked the overconfident enemy by driving them into the thin ice at the far side of the lake. Because of the weight of their armors, many of the crusaders sank and drowned, while the survivors escaped. This lost halted the Northern Crusades for nearly a century.
This history might seem interesting, but nowadays, the lake is better known as one of the best places to do ice-fishing. Since the lake is home to bountiful schools of sparlings, pikes, breams, bass, perches, whitefishes, and many others, locals can be seen making holes into the thick ice and sitting with their fishing lines dipped into the water, hoping to catch some fish for dinner. One might be enticed to do the same, although it might be best to tag along with the locals or fish in areas where people are clustered together in order to find the best fishing spots.
Nearby Lake Peipsi is Tartu, considered as the spiritual capital of Estonia. The town is an example of the old meeting the new. Here, visitors can see old wooden houses and 19th-century cobblestone streets mingling with modern high-rise buildings and universities. It also served as the cradle for the 19th century revival of the country, as proven by its museums.
Another attraction worth seeing is the impressive Alatskivi Castle, believed to date back to the late 15th century. Built by Baron Arved von Nolcken, the castle embellishes a distinctive Scottish Baronial style of architecture.
User blogs:
Cheaper galactic spaceliner unveiled
News from http://news.ph.msn.com/top-stories/article.aspx?cp-documentid=3737940 Richard Branson unveiled Monday a commercial spaceliner offering tourists a cheaper chance to experience the thrill of weightlessness and view the splendor of the Earth from space. The British billionaire hopes to offer tickets aboard his spacecraft at a cost of 200,000 dollars each, giving adventurous ... Read full Blog post
Indonesia Eco Tourism
Tour Itenaray Day 01 BALI - LABUAN BAJO – RINCA ISLAND – KOMODO ISLAND (L.D) Pick up from your hotel in Bali and transfer to the airport, for flight to Labuan Bajo (West Flores) for approximately one and half hours. On arrival in Labuan Bajo airport, will be welcomed and met with our local representative or tour guide. Than transfer to the harbour to catch a boat cross to Rinca ... Read full Blog post
San Gimignano and San Pellegrino
Night falls on the flourishing and industrious San Gimignano, its 72 towers stand on the low roofs of the houses lit by the moon. This is not a luxury travel spot but is something you don't see every day. In the distance the clatter of hooves echoed tired in the Via Francigena. The hand of the blacksmith stops beating, the frame of the weaver becomes silent, the streets of the tank only a concert ... Read full Blog post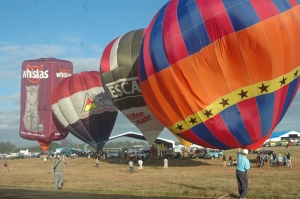 An Aerial fiesta in Clark Pampanga
Its a party in the sky as multi colored hot air balloons piloted ny different pilots from various partso of the world participated in this annual gathering. As early as 5am, the 2,500 hectare aviation complex at Clar Economic Zone in Pampanga was already crammedi with excitement. Clusters of hot air balloon participants busily prepare their own balloons for liftoff as they need to take advantage of ... Read full Blog post