48HourVisit.com

Planning a short visit? Check out

48HourVisit.com

, your online guide for short stays and weekend getaways.

Ad
Hiiumaa literally means "Day Island." The town is considered to be the second largest isle in Estonia. Nestled in the waters of the Baltic Sea, Hiiumaa sprawls to nearly 1,000 square kilometers in area, and is populated by 11,000 inhabitants. It is believed that the island has been formed some 450 million years ago from a meteorite explosion, making it one of the oldest islands in the world.
Blessed with natural beauty, Hiiumaa is characterized by a landscape that varies from point to point. Such landscape is home to a diverse flora and fauna, kilometer-long beaches, and a vista of around 200 picturesque islets dotting the turquoise waters beyond.
A highlight of a visit to Hiiumaa is a chance to go on a nature trek on the entire island. The island's topography is mostly flat, with its highest elevation a mere 70 meters high, making it fairly easy to navigate even for first timers. This, in turn, might not sound as good news to the ears of a true-blue climber, who would most likely seek a more dangerous and forbidding terrain. A trek in Hiiumaa could be rewarding, though, as the serene and secluded journey passes through swaths of pine and spruce forests that are estimated to make up at least 60 percent of the island's total land area.
Hiiumaa is also known for its cultural heritage, most notably for its formidable army of lighthouses. The most known of these is the Tahkuna Lighthouse, which stands 42.7 meters high, making it the tallest in the island. Fashioned out of cast iron, it is said to have been built in 1873. Another famous one is the Lighthouse of Kopu, which is perched on the summit of Tornimagi Hill at an altitude of 68 meters. The stone edifice is considered to be the third constantly active lighthouse on the planet, with a history of service dating back to the 15th century.
Tourists may also head to the impressive Suuremoisa Castle, whose grandiose appearance makes it one of the most beautiful in Estonia. Built by Countess Ebba Margaretha Stenbock, it embellishes a distinctive pure Baroque-Rococo style of architecture, making it be regarded as a national treasure. There is also the Kuriste Church, which stands as the sole orthodox church in Hiiumaa. Erected in 1873, it features displays of religious icons and liturgical textiles whose origins can be traced to the 19th century.
One can also visit Hiiumaa's most popular museum, the Hiiumaa Museum Long House, or as it is simply known, the "Long House." Once the center of the island's cloth-weaving industry, the museum takes pride of its collection of photographs and memorabilia that show the history and the development of the local craft.
User blogs:
Cheaper galactic spaceliner unveiled
News from http://news.ph.msn.com/top-stories/article.aspx?cp-documentid=3737940 Richard Branson unveiled Monday a commercial spaceliner offering tourists a cheaper chance to experience the thrill of weightlessness and view the splendor of the Earth from space. The British billionaire hopes to offer tickets aboard his spacecraft at a cost of 200,000 dollars each, giving adventurous ... Read full Blog post
Indonesia Eco Tourism
Tour Itenaray Day 01 BALI - LABUAN BAJO – RINCA ISLAND – KOMODO ISLAND (L.D) Pick up from your hotel in Bali and transfer to the airport, for flight to Labuan Bajo (West Flores) for approximately one and half hours. On arrival in Labuan Bajo airport, will be welcomed and met with our local representative or tour guide. Than transfer to the harbour to catch a boat cross to Rinca ... Read full Blog post
San Gimignano and San Pellegrino
Night falls on the flourishing and industrious San Gimignano, its 72 towers stand on the low roofs of the houses lit by the moon. This is not a luxury travel spot but is something you don't see every day. In the distance the clatter of hooves echoed tired in the Via Francigena. The hand of the blacksmith stops beating, the frame of the weaver becomes silent, the streets of the tank only a concert ... Read full Blog post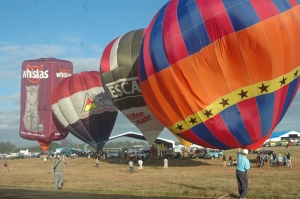 An Aerial fiesta in Clark Pampanga
Its a party in the sky as multi colored hot air balloons piloted ny different pilots from various partso of the world participated in this annual gathering. As early as 5am, the 2,500 hectare aviation complex at Clar Economic Zone in Pampanga was already crammedi with excitement. Clusters of hot air balloon participants busily prepare their own balloons for liftoff as they need to take advantage of ... Read full Blog post