48HourVisit.com

Planning a short visit? Check out

48HourVisit.com

, your online guide for short stays and weekend getaways.

Ad

The Glossary

stelae - "a stone or wooden slab erected for funerals and/or commemorative purposes. They are usually decorated with the names and titles of the deceased or living — either inscribed, carved in bas, sunken or high relief or simply painted to the slab."
Sharm el Sheikh Travel Guide

/
Africa
/
Egypt
/
Sharm el Sheikh
/ Introduction
Sharm El-Sheikh, in recent years has become one of Egypt's best known and most visited beach resorts on the Sinai Peninsula. The simplicity of the sun, sea and sand, the luxury of the 5 star hotels belonging to international chains, world class water sports kiosks, knick knack shopping and bustling entertainment combine together to create an alluring, exotic and charismatic Sharma El- Sheikh. Over centuries Sharm El- Sheikh's infrastructure seems to have expanded in fits and starts and its appeal as well.
Sharm El-Sheikh is also heralded as the most extraordinary diving destination in the Red Sea, Egypt. Imagine yourself in one of the most famous and beautiful deep sea diving paradises in the world. Your dream of crystal clear water, magnificent corals, exotic under water flora and unique tropical fish all come true when you visit Sharma El-Sheikh on the southern tip of the Sinai Peninsula.
Sharm El-Sheikh has been also nicknamed as the city of peace accredited to its white sandy beaches, endless desert landscape which contrasts the clear blue waters of the Sinai Peninsula.
In addition to the eye soothing beauty, amenities including casinos, discos, night clubs and golf courses can be expected from Sharm el-sheikh. Horses and camel riding, desert safaris and hoards of water sports will never make you suffer form boredom.
Naama Bay is a long sandy bay flanked by a beautiful paved walkway dotted with bougainvillea and oleander. This bay is usually targeted at dusk where you can find any shops, bars, restaurants and sheesha cafes.
Ras Ol El Seed is a cliff top area that links Naama Bay and the Bay of Sharma El Maya. It boasts of a breathtaking and colorful sight of coral reefs and is also the home to many hotels.
Sharma El Maya is a picturesque bay that is a natural harbor and a shelter to many small boats. A prime diving location, there are several private companies that welcome diving courses at all levels.
Diving among sharks and turtles at the aptly named Shark reef will need lot of guts but will remain etched in your memory as sweet and unforgettable forever. Take a day trip to St Catherine's Monastery, the site of biblical burning bush or find yet another post card prefect attraction at Ras Mohammed National Park.
User blogs:
Cheaper galactic spaceliner unveiled
News from http://news.ph.msn.com/top-stories/article.aspx?cp-documentid=3737940 Richard Branson unveiled Monday a commercial spaceliner offering tourists a cheaper chance to experience the thrill of weightlessness and view the splendor of the Earth from space. The British billionaire hopes to offer tickets aboard his spacecraft at a cost of 200,000 dollars each, giving adventurous ... Read full Blog post
Indonesia Eco Tourism
Tour Itenaray Day 01 BALI - LABUAN BAJO – RINCA ISLAND – KOMODO ISLAND (L.D) Pick up from your hotel in Bali and transfer to the airport, for flight to Labuan Bajo (West Flores) for approximately one and half hours. On arrival in Labuan Bajo airport, will be welcomed and met with our local representative or tour guide. Than transfer to the harbour to catch a boat cross to Rinca ... Read full Blog post
San Gimignano and San Pellegrino
Night falls on the flourishing and industrious San Gimignano, its 72 towers stand on the low roofs of the houses lit by the moon. This is not a luxury travel spot but is something you don't see every day. In the distance the clatter of hooves echoed tired in the Via Francigena. The hand of the blacksmith stops beating, the frame of the weaver becomes silent, the streets of the tank only a concert ... Read full Blog post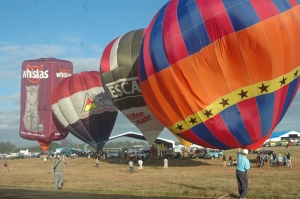 An Aerial fiesta in Clark Pampanga
Its a party in the sky as multi colored hot air balloons piloted ny different pilots from various partso of the world participated in this annual gathering. As early as 5am, the 2,500 hectare aviation complex at Clar Economic Zone in Pampanga was already crammedi with excitement. Clusters of hot air balloon participants busily prepare their own balloons for liftoff as they need to take advantage of ... Read full Blog post