48HourVisit.com

Planning a short visit? Check out

48HourVisit.com

, your online guide for short stays and weekend getaways.

Ad

The Glossary

stelae - "a stone or wooden slab erected for funerals and/or commemorative purposes. They are usually decorated with the names and titles of the deceased or living — either inscribed, carved in bas, sunken or high relief or simply painted to the slab."
Dahab Travel Guide

/
Africa
/
Egypt
/
Sinai Peninsula
/
Dahab
/ Introduction
First time visitors of Dahab, a laidback and remote coastal Bedouin hamlet in the Egyptian Red Sea, will surely be charmed by its spanning empty beaches (brimming with diving spots and considered to be one of Sinai's treasured diving destinations) at its north side—once a hippie backpacker's hangout in the 1980's.
Until the early 90's the town was an under-developed haven which evoked the atmosphere of an Egyptian community. Iin the course of time, its southern area, lying at the center of the city to the Medina, is now peppered with upscale resort hotel catering to its discerning clienteles.
Synonymous to Sharm el-Sheikh, Dahab clings to the Sinai Desert backdrop with undulating terrain of the mountain and the spectacular dunes of the desert overlooking the Gulf of Aqaba. Other than the usual activities to enjoy such as diving and trekking, guided tours and desert safaris can also be arranged where visitors can have the chance to ride on the back of a camel. For the adventurous, conquering the secluded deserts is a challenge, as they lead to the daunting peak of Mt. Sinai popularly known as "Moses Mountain." Boating is another option which will usher travelers to discover the underwater wonders of the Red Sea and an opportunity to take a jaunt at the Ras Mohammad National Park.
Getting out of Dahab makes for an interesting detour, revealing the Bedouin oasis of Ein Khudra and the three pools of Wadi Gnay a popular area for snorkeling
The good news is that visitors need not acquire an Egyptian visa when they visit Dahab, especially if they opt to stay within Sinai where the Sharma el Sheik and Na'ama Bay are located. Capping a trip to this enchanting town means dining in one of the locally-owned restaurants or bars along Dahab's waterfront.
Dahab Landmarks:
User blogs:
Cheaper galactic spaceliner unveiled
News from http://news.ph.msn.com/top-stories/article.aspx?cp-documentid=3737940 Richard Branson unveiled Monday a commercial spaceliner offering tourists a cheaper chance to experience the thrill of weightlessness and view the splendor of the Earth from space. The British billionaire hopes to offer tickets aboard his spacecraft at a cost of 200,000 dollars each, giving adventurous ... Read full Blog post
Indonesia Eco Tourism
Tour Itenaray Day 01 BALI - LABUAN BAJO – RINCA ISLAND – KOMODO ISLAND (L.D) Pick up from your hotel in Bali and transfer to the airport, for flight to Labuan Bajo (West Flores) for approximately one and half hours. On arrival in Labuan Bajo airport, will be welcomed and met with our local representative or tour guide. Than transfer to the harbour to catch a boat cross to Rinca ... Read full Blog post
San Gimignano and San Pellegrino
Night falls on the flourishing and industrious San Gimignano, its 72 towers stand on the low roofs of the houses lit by the moon. This is not a luxury travel spot but is something you don't see every day. In the distance the clatter of hooves echoed tired in the Via Francigena. The hand of the blacksmith stops beating, the frame of the weaver becomes silent, the streets of the tank only a concert ... Read full Blog post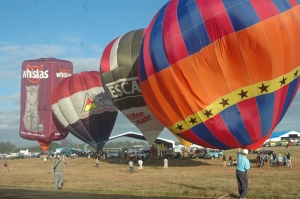 An Aerial fiesta in Clark Pampanga
Its a party in the sky as multi colored hot air balloons piloted ny different pilots from various partso of the world participated in this annual gathering. As early as 5am, the 2,500 hectare aviation complex at Clar Economic Zone in Pampanga was already crammedi with excitement. Clusters of hot air balloon participants busily prepare their own balloons for liftoff as they need to take advantage of ... Read full Blog post