48HourVisit.com

Planning a short visit? Check out

48HourVisit.com

, your online guide for short stays and weekend getaways.

Ad

The Glossary

fellaheen - "peasant farmers or simply called agricultural laborer in an Arab country, like Syria and Egypt."
Regarded as the homeland of the Nubian, Aswan is the gateway to the African continent and considered as Egypt's sunniest city. Having Syene as its Egyptian name, Aswan has a palpable African atmosphere, with tawny desert and granite rocks replete with round island coves carpeted with tropical plants and palm groves.
Tiny as it may seem, Aswan is brimming with sights that are worth a jaunt. Since the pace of life in this town is less frenetic, visitors can enjoy days strolling up and down the Corniche watching the fellucas or sitting in a floating restaurant listening to Nubian music and eating seafood.
Continuing a stroll to the East Bank of the Nile, visitors can find few mosques intermittent with the bazaars running along the Corniche and continuing to the Nubian Museum, the Ferial Garden and the cemetery dotted with cupolas from the Fatimid period. Not far from the cemetery are the colossal Unfinished Obelisk, a buried Greco-Roman sarcophagus and a ruined colossus.
On the West Bank, travelers can have a close up view of the Tombs of the Nobles, Mausoleum of the Aga Khan, the 7th century Monastery of St. Simeon and the Kubbet el-Hawa ("The Dome of the Wind") which serves as a good vantage point to have a bird's eye view of the Aswan and Nile.
After visiting the ruined shrines and temples, they may as well proceed to the palm-fringed islands of Aswan which include Sehel, Kitcheners and the Elephantine Island where native villagers Siou and Koti live. Since the famed Nilometers and Sati are also nestled in Elephantine, they can explore these sites after the island-hopping,
Among the not-to-be-missed experiences are the cruise to the Lake Nasser which has a spectacular view of the Aswan High Dam (a UNESCO World Heritage Site) and the trip to the souks where enveloped by the scent and color of native spices and perfume of the Nubians. During the night, tourists can linger around the Cultural Center where Nubian performers present folklore dances which embody the scenes from the life of the villagers.
Aswan Landmarks:
User blogs:
Cheaper galactic spaceliner unveiled
News from http://news.ph.msn.com/top-stories/article.aspx?cp-documentid=3737940 Richard Branson unveiled Monday a commercial spaceliner offering tourists a cheaper chance to experience the thrill of weightlessness and view the splendor of the Earth from space. The British billionaire hopes to offer tickets aboard his spacecraft at a cost of 200,000 dollars each, giving adventurous ... Read full Blog post
Indonesia Eco Tourism
Tour Itenaray Day 01 BALI - LABUAN BAJO – RINCA ISLAND – KOMODO ISLAND (L.D) Pick up from your hotel in Bali and transfer to the airport, for flight to Labuan Bajo (West Flores) for approximately one and half hours. On arrival in Labuan Bajo airport, will be welcomed and met with our local representative or tour guide. Than transfer to the harbour to catch a boat cross to Rinca ... Read full Blog post
San Gimignano and San Pellegrino
Night falls on the flourishing and industrious San Gimignano, its 72 towers stand on the low roofs of the houses lit by the moon. This is not a luxury travel spot but is something you don't see every day. In the distance the clatter of hooves echoed tired in the Via Francigena. The hand of the blacksmith stops beating, the frame of the weaver becomes silent, the streets of the tank only a concert ... Read full Blog post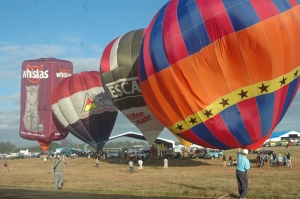 An Aerial fiesta in Clark Pampanga
Its a party in the sky as multi colored hot air balloons piloted ny different pilots from various partso of the world participated in this annual gathering. As early as 5am, the 2,500 hectare aviation complex at Clar Economic Zone in Pampanga was already crammedi with excitement. Clusters of hot air balloon participants busily prepare their own balloons for liftoff as they need to take advantage of ... Read full Blog post