48HourVisit.com

Planning a short visit? Check out

48HourVisit.com

, your online guide for short stays and weekend getaways.

Ad

The Glossary

tuk-a-lok - "a fruit shake"
Having a fair share of important sites, Takeo boasts a good number of pre-Angkorian temples (Phom Da, Ta Prohm and Neang Khmao) and wildlife reserve areas (Chruos Phaork and Phnom Kleng). Often referred to as the "cradle of Cambodian civilization," this provincial capital is just a relaxed town with its surplus of natural and man-made creations.
The scenic river of Tonle Bati is a popular picnic area with its quaint bamboo shacks built out over the water which can be very romantic at dusk while the wildlife reserve areas and the Chissor Mountain can be a nice spot for a long, vigorous hike. Ardent hikers who reach the top are rewarded with the picturesque view of lakes dotting the countryside and rivers slicing through glistening rice fields.
Takeo Landmarks:
User blogs:
Experience a Majestic Stay at Heritage Hotels of India
India is the only country in the world which is famously associated with the most popular heritage hotels. The royal and glorious history of India portrays its traditional and cultural aspect. One just cannot ignore the past of some of the Maharajas and their lavish lifestyle that formed a crucial part of the Indian cultural identity. The heritage hotels in India still represent the aura and charisma ... Read full Blog post
What to see in Salzburg, Austria
Salzburg is a charming town on the banks of the Salzach River. On the left bank, on top of the Monchsberg, stands the fortress, which dominates the center of town with many houses in the '500 and '600. In addition to wander through the streets and pastries, you can visit the Cathedral, the Residenz in which they lived archbishops and princes, the castle of Maribel with the beautiful gardens ... Read full Blog post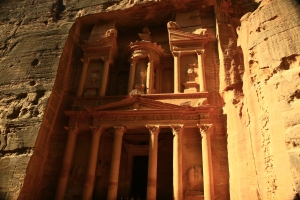 I wish I was Johann Ludwig Burckhardt
Some first encounters are ireplaceable, they can happen once and the impact is something you can't replicate afterwards, Imagine yourself being swiss explorer Johann Ludwig Burckhardt (why do they have to have such complicated names? whats wrong with just Van Dam??), Johann was an explorer and toured the middle east/african region back in the 18th century, GPS was still an expensive gadget for young ... Read full Blog post
Palace on Wheels : A Royal Luxury Train Tour in India
Palace on Wheels is one of the most popular luxury trains running in India. It presents a great chance to travelers from across the globe to explore the fabulous destination Rajasthan and Agra sitting in the lap of exquisite luxury of the train. It is a well-known fact that Indian royalty was too fond of luxury trains. The princes of various princely states got their trains customized in England ... Read full Blog post