48HourVisit.com

Planning a short visit? Check out

48HourVisit.com

, your online guide for short stays and weekend getaways.

Ad

The Glossary

Carioca - "Refers to a resident of Rio De janeiro, the locals refers to themselves as "Cariocas""
Recife Travel Guide

/
South America
/
Brazil
/
Recife
/ Introduction
Bohemians, beaches, the Rio Carnival and soccer are the building blocks of what has become the modern-day Brazil. Bikini is still part of the country's national costume. Although Rio De Janeiro remains Brazil's top tourist attraction, an easier, more laid-back way to relish the Brazilian vibe is through Recife, Brazil's fourth-largest cosmopolitan city. Considered as the Venice of Brazil for its many canals, bridges, and narrow one-way streets, Recife is also one of the country's premier financial districts.
Although football, samba, and Capoeira (Brazilian martial arts), remains to be the passion of many in Recife, industrialists have turned their attention on its tourism industry. Major ports have been established to welcome travelers through Recife's long and protective coastal reefs. It has only recently become a tourist destination, so visitors are often a novelty for its inhabitants. High rise buildings, colonial churches and markets quilt the city with a mix of old and new. Clay figurines, wood sculptures, leather goods and woven straw are just some of its handicrafts that tourists find attractive.
Much of Recife's nightlife is in Boa Viagem, which has the city's finest beach. A wealth of fine-dining restaurants can be found offering Afro-Bahian food and drinks or improvised African, Indian, Portuguese and native Brazilian dishes that include seafood, fish and fruits. From Boa Viagem, the city can be explored starting from the Praca da Republica, where the 19th-century Teatro Santa Isabel and the Catedral de Sao Pedro dos Clerigos are located. After passing through the colorful Mercado do Sao Jose or Saint John's Market, visitors can pay homage at the Basilica de Nossa Senhora da Penha.
User blogs:
Cheaper galactic spaceliner unveiled
News from http://news.ph.msn.com/top-stories/article.aspx?cp-documentid=3737940 Richard Branson unveiled Monday a commercial spaceliner offering tourists a cheaper chance to experience the thrill of weightlessness and view the splendor of the Earth from space. The British billionaire hopes to offer tickets aboard his spacecraft at a cost of 200,000 dollars each, giving adventurous ... Read full Blog post
Indonesia Eco Tourism
Tour Itenaray Day 01 BALI - LABUAN BAJO – RINCA ISLAND – KOMODO ISLAND (L.D) Pick up from your hotel in Bali and transfer to the airport, for flight to Labuan Bajo (West Flores) for approximately one and half hours. On arrival in Labuan Bajo airport, will be welcomed and met with our local representative or tour guide. Than transfer to the harbour to catch a boat cross to Rinca ... Read full Blog post
San Gimignano and San Pellegrino
Night falls on the flourishing and industrious San Gimignano, its 72 towers stand on the low roofs of the houses lit by the moon. This is not a luxury travel spot but is something you don't see every day. In the distance the clatter of hooves echoed tired in the Via Francigena. The hand of the blacksmith stops beating, the frame of the weaver becomes silent, the streets of the tank only a concert ... Read full Blog post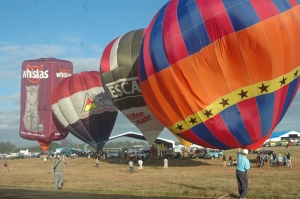 An Aerial fiesta in Clark Pampanga
Its a party in the sky as multi colored hot air balloons piloted ny different pilots from various partso of the world participated in this annual gathering. As early as 5am, the 2,500 hectare aviation complex at Clar Economic Zone in Pampanga was already crammedi with excitement. Clusters of hot air balloon participants busily prepare their own balloons for liftoff as they need to take advantage of ... Read full Blog post