48HourVisit.com

Planning a short visit? Check out

48HourVisit.com

, your online guide for short stays and weekend getaways.

Ad

The Glossary

Bloco - "A street party, usually held prior and during the Carnival period, loads of alcohol and hormones all around."
Florianopolis Travel Guide

/
South America
/
Brazil
/
Florianopolis
/ Introduction
Formerly called Nossa Senhora do Desterro (Our Lady of Banishment), the name Florianópolis was derived from the name of Brazil's second president, Floriano Peixoto. Nicknamed Floripa, it is the capital city of Santa Catarina State in Southern Brazil. Several bridges connect the city to the rest of the country, one of them, the Hercílio Luz Bridge, is a popular postcard image resembling San Francisco's Golden Gate Bridge. The city is divided into two, the main part and the continental side where most of the industries are located. The continental area consists of the districts of Estreito and Coqueiros. Across the bay lays the historical part of the city, the Beira Mar-Norte.
Colonial houses and cottage industries like fishing and lace-making envelop the city's overall charm while modern-day indulgences such as fine-dining restaurants and street cafes add to its vibrancy. Fish and seafood caught from its surrounding waters sustain the local restaurants. They are mainly fishermen sharing the city with expatriates who have considered the place their second home. The city is a bourgeoning playground for outdoor sports such as surfing, diving, hang gliding, paragliding and mountain biking. Surfers can enjoy the world famous "Bunny Slope" called Barra da Lagoa, home to surfing world champion Jacqueline Silva and performing penguins during parades. Along the same coast rest the sandbars of beaches Joaquina and Ingleses, the preferred melting pot of skim board enthusiasts.
The ancient world is still very much part of Florianopolis. In Santinho, 5,000-year-old cave inscriptions can still be found, while Amarcao hosts Santa Catarina's vast and much-studied archaeological sites. After a day of adventure tourists are enjoined to a soothing thermal hydro massage in Santo Amaro da Imperatriz, Brazil's foremost hot water reservoir.
User blogs:
Cheaper galactic spaceliner unveiled
News from http://news.ph.msn.com/top-stories/article.aspx?cp-documentid=3737940 Richard Branson unveiled Monday a commercial spaceliner offering tourists a cheaper chance to experience the thrill of weightlessness and view the splendor of the Earth from space. The British billionaire hopes to offer tickets aboard his spacecraft at a cost of 200,000 dollars each, giving adventurous ... Read full Blog post
Indonesia Eco Tourism
Tour Itenaray Day 01 BALI - LABUAN BAJO – RINCA ISLAND – KOMODO ISLAND (L.D) Pick up from your hotel in Bali and transfer to the airport, for flight to Labuan Bajo (West Flores) for approximately one and half hours. On arrival in Labuan Bajo airport, will be welcomed and met with our local representative or tour guide. Than transfer to the harbour to catch a boat cross to Rinca ... Read full Blog post
San Gimignano and San Pellegrino
Night falls on the flourishing and industrious San Gimignano, its 72 towers stand on the low roofs of the houses lit by the moon. This is not a luxury travel spot but is something you don't see every day. In the distance the clatter of hooves echoed tired in the Via Francigena. The hand of the blacksmith stops beating, the frame of the weaver becomes silent, the streets of the tank only a concert ... Read full Blog post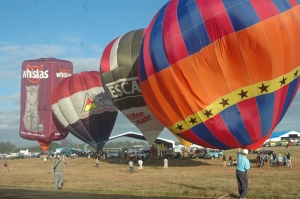 An Aerial fiesta in Clark Pampanga
Its a party in the sky as multi colored hot air balloons piloted ny different pilots from various partso of the world participated in this annual gathering. As early as 5am, the 2,500 hectare aviation complex at Clar Economic Zone in Pampanga was already crammedi with excitement. Clusters of hot air balloon participants busily prepare their own balloons for liftoff as they need to take advantage of ... Read full Blog post