48HourVisit.com

Planning a short visit? Check out

48HourVisit.com

, your online guide for short stays and weekend getaways.

Ad

The Glossary

Mestizo - "refers to Bolivians of mixed European and Amerindian ancestry; a term that originated from Spaniard colonists."
Tupiza Travel Guide

/
South America
/
Bolivia
/
Tupiza
/ Introduction
Tupiza, an elevated Andean region in Potosi, southwest of Bolivia, is best known as the place where Robert Redford and Paul Newman filmed their 1969 cowboy epic Butch Cassidy and the Sundance Kid. Tupiza's luscious setting is packed with an array of canyon lands and colorful landscapes, making it an idyllic set for any Wild West blockbuster. Stripped of the usual city comforts, the deserted and pre-industrial colony of Tupiza quickly gives the impression of being the birthplace of horsemen and modern-day Pancho Villas. Nevertheless, unlike in the revolutionary Villa, the locals here are actually friendly. People lead a serene life: watching football TV shows in their rural houses, visiting colonial churches, and touring the city and its surrounding geological wonders on horseback or truck. In short, Tupiza offers sobriety at the backdrop of extreme adventure.
December marks the best time to visit, when the Festival Folklorico greets guests with the sound of drums, trumpets and tubas. Little children in colorful, traditional Bolivian costumes gather at the park to perform native dances and songs with the accompaniment of marching bands. Around town, young women clad in skimpy cowgirl costumes parade on horseback, while pilgrims say their prayers at the ornate Iglesia San Francisco.
The townspeople usually head to an uphill plateau with a white cross called the El Corazón de Jesus (the Heart of Jesus), which affords the tourist a bird's eye view of the whole town and its surrounding colored mountains. The city center leads to Valle de los machos, home to breathtaking canyons and phallic rock pillars resembling sharks' fins and daggers. Riding on horseback or cholitas (donkey) is the best way to arrive here in style.
To the north is Waca Wañusca (Dead Cow), a road with bristling red cactuses on either side that head to Tupiza's mining villages. For centuries, llama herders have followed this trail, while fortune hunters grope into its small streams to look for gold.
User blogs:
Cheaper galactic spaceliner unveiled
News from http://news.ph.msn.com/top-stories/article.aspx?cp-documentid=3737940 Richard Branson unveiled Monday a commercial spaceliner offering tourists a cheaper chance to experience the thrill of weightlessness and view the splendor of the Earth from space. The British billionaire hopes to offer tickets aboard his spacecraft at a cost of 200,000 dollars each, giving adventurous ... Read full Blog post
Indonesia Eco Tourism
Tour Itenaray Day 01 BALI - LABUAN BAJO – RINCA ISLAND – KOMODO ISLAND (L.D) Pick up from your hotel in Bali and transfer to the airport, for flight to Labuan Bajo (West Flores) for approximately one and half hours. On arrival in Labuan Bajo airport, will be welcomed and met with our local representative or tour guide. Than transfer to the harbour to catch a boat cross to Rinca ... Read full Blog post
San Gimignano and San Pellegrino
Night falls on the flourishing and industrious San Gimignano, its 72 towers stand on the low roofs of the houses lit by the moon. This is not a luxury travel spot but is something you don't see every day. In the distance the clatter of hooves echoed tired in the Via Francigena. The hand of the blacksmith stops beating, the frame of the weaver becomes silent, the streets of the tank only a concert ... Read full Blog post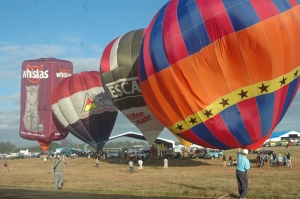 An Aerial fiesta in Clark Pampanga
Its a party in the sky as multi colored hot air balloons piloted ny different pilots from various partso of the world participated in this annual gathering. As early as 5am, the 2,500 hectare aviation complex at Clar Economic Zone in Pampanga was already crammedi with excitement. Clusters of hot air balloon participants busily prepare their own balloons for liftoff as they need to take advantage of ... Read full Blog post