48HourVisit.com

Planning a short visit? Check out

48HourVisit.com

, your online guide for short stays and weekend getaways.

Ad

The Glossary

Por favor - "please"
Sucre Travel Guide

/
South America
/
Bolivia
/
Sucre
/ Introduction
In the same fashion that Hansel and Gretel dropped breadcrumbs in the forest, hundreds of dinosaurs had left thousands of tracks in the limestone pathway leading to Sucre, home to the world's largest collection of dinosaur footprints. It also happens to be Bolivia's most beautiful city. In many ways, this southern city could be the capital of Bolivia. After all, it is a UNESCO World Heritage Site, the heart of the independence movement, the seat of the Catholic Church, and the center of judicial, academic and progressive thought in the land.
Many great individuals blessed the place with their presence, until the city met its great marshal, Don Antonio Jose de Sucre, hero of the Battle of Ayacucho that brought Bolivia its independence. Sucre is best known as "La ciudad blanca" (The white city) for its glorious ensembles of white-washed, grand buildings. From this reputation emerges a general rule: never paint a house black.
Regular bus service and taxis take tourists to any place in the city, starting with the best place to study Bolivia's history through paintings and sculpture, La Casa de la Libertad in Central Plaza, where the country's independence was declared on May 25, 1825. A good alternative is Museo Textil Etnografico Asur in Calle San Alberto, which narrates Bolivian culture in textile prints and colors.
Due to its temperate climate and youthful vibe, Sucre is a popular destination for tourists. It is also a suitable place to learn Spanish. After school, young people meet at hip cafés in Plaza 25 de Mayo, while lovers take a stroll at the Parque Bolivar. Every weekend, the daredevils arrange paragliding excursions in the nearby valleys, while the shopaholic rushes to the Sunday market at Tarabuco, where tapestries, alpaca sweaters and scarves are the must-buys.
User blogs:
Cheaper galactic spaceliner unveiled
News from http://news.ph.msn.com/top-stories/article.aspx?cp-documentid=3737940 Richard Branson unveiled Monday a commercial spaceliner offering tourists a cheaper chance to experience the thrill of weightlessness and view the splendor of the Earth from space. The British billionaire hopes to offer tickets aboard his spacecraft at a cost of 200,000 dollars each, giving adventurous ... Read full Blog post
Indonesia Eco Tourism
Tour Itenaray Day 01 BALI - LABUAN BAJO – RINCA ISLAND – KOMODO ISLAND (L.D) Pick up from your hotel in Bali and transfer to the airport, for flight to Labuan Bajo (West Flores) for approximately one and half hours. On arrival in Labuan Bajo airport, will be welcomed and met with our local representative or tour guide. Than transfer to the harbour to catch a boat cross to Rinca ... Read full Blog post
San Gimignano and San Pellegrino
Night falls on the flourishing and industrious San Gimignano, its 72 towers stand on the low roofs of the houses lit by the moon. This is not a luxury travel spot but is something you don't see every day. In the distance the clatter of hooves echoed tired in the Via Francigena. The hand of the blacksmith stops beating, the frame of the weaver becomes silent, the streets of the tank only a concert ... Read full Blog post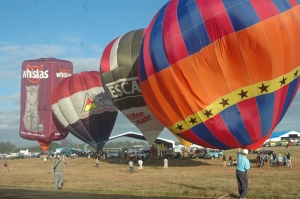 An Aerial fiesta in Clark Pampanga
Its a party in the sky as multi colored hot air balloons piloted ny different pilots from various partso of the world participated in this annual gathering. As early as 5am, the 2,500 hectare aviation complex at Clar Economic Zone in Pampanga was already crammedi with excitement. Clusters of hot air balloon participants busily prepare their own balloons for liftoff as they need to take advantage of ... Read full Blog post