48HourVisit.com

Planning a short visit? Check out

48HourVisit.com

, your online guide for short stays and weekend getaways.

Ad

The Glossary

jamidari or zamindar - "an official who collects taxes from the peasants."
Sylhet Division Travel Guide

/
Asia
/
Bangladesh
/
Sylhet Division
/ Introduction
Far from the claustrophobic vibe of the bustling Dhaka, Sylhet is more expansive and beautiful, with the sweep of green that embraces this division. Sitting auspiciously on the lap of the Surma Valley amid tropical forests and rolling terrain of tea plantations, Sylhet shatters the monotony of the land and is considered to be called as a top attraction in Bangladesh.
Its local GNP may seem to solely rely from the income of the tea estates but today, much of the land is also used as a good investment for real estate such as condominiums, hotels and malls owned mostly by expatriates from London. Aside from acres of terraced tea gardens, the town is also known for its rice fields and the shrine of Hazrat Shah Jalal, the man responsible for bringing Islam to the region in the 14th century.
After meandering around the aromatic tea plantations and sampling the tea, visitors can explore the wild side of Sylhet by taking the trails to its dense jungle which houses several species of wildlife. Slow lorins, pig-tailed macaques, capped langurs, masked civets and orange bellied Himalayan squirrels are a delight to see in their natural habitat. All these creatures and more can be found in the Lawachara National Park whose 160 species of flora and 246 varieties of bird life are staggering.
The forest is also the home to the Manipuri tribal maidens known to Sylhet to have their own set of age-old rites and rituals and for performing a mythological love dance during the festivals of Rash Leela and Doljatra. The region comes alive during this time with all the young ladies participating in their colorful ensemble and dancing gaily among other aboriginal tribes like the Garos, Tipperas and Khasis.
Before returning home, visitors should check out the handicrafts made solely by the natives of Sylhet, such as tea trays, bags and the famous sital pati, a kind of mattress with natural cooling effect.
User blogs:
Cheaper galactic spaceliner unveiled
News from http://news.ph.msn.com/top-stories/article.aspx?cp-documentid=3737940 Richard Branson unveiled Monday a commercial spaceliner offering tourists a cheaper chance to experience the thrill of weightlessness and view the splendor of the Earth from space. The British billionaire hopes to offer tickets aboard his spacecraft at a cost of 200,000 dollars each, giving adventurous ... Read full Blog post
Indonesia Eco Tourism
Tour Itenaray Day 01 BALI - LABUAN BAJO – RINCA ISLAND – KOMODO ISLAND (L.D) Pick up from your hotel in Bali and transfer to the airport, for flight to Labuan Bajo (West Flores) for approximately one and half hours. On arrival in Labuan Bajo airport, will be welcomed and met with our local representative or tour guide. Than transfer to the harbour to catch a boat cross to Rinca ... Read full Blog post
San Gimignano and San Pellegrino
Night falls on the flourishing and industrious San Gimignano, its 72 towers stand on the low roofs of the houses lit by the moon. This is not a luxury travel spot but is something you don't see every day. In the distance the clatter of hooves echoed tired in the Via Francigena. The hand of the blacksmith stops beating, the frame of the weaver becomes silent, the streets of the tank only a concert ... Read full Blog post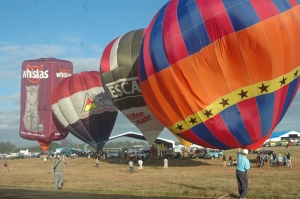 An Aerial fiesta in Clark Pampanga
Its a party in the sky as multi colored hot air balloons piloted ny different pilots from various partso of the world participated in this annual gathering. As early as 5am, the 2,500 hectare aviation complex at Clar Economic Zone in Pampanga was already crammedi with excitement. Clusters of hot air balloon participants busily prepare their own balloons for liftoff as they need to take advantage of ... Read full Blog post