48HourVisit.com

Planning a short visit? Check out

48HourVisit.com

, your online guide for short stays and weekend getaways.

Ad

The Glossary

choli - "is a midriff-baring blouse worn in Bangladesh and in some other parts of Asia like India, Pakistan and Sri Lanka where the sari is worn."
Khulna Division Travel Guide

/
Asia
/
Bangladesh
/
Khulna Division
/ Introduction
Hardcore travelers and "real" adventurers will sure to love the vibe that Khulna exudes. Gauging from the aura of its surroundings, this is Asia's veritable counterpart of the safari in Africa. The mangrove swamps at Sundurban, which is a UNESCO World Heritage Site, takes the lead role in Khulna's wide side, apart from the thousand of crab farms that swarm in the area.
Smacked in the mouth of Ganges River, Khulna, as the gateway to the Sundarban National Park, draws all sorts of visitors annually to marvel at the largest littoral mangrove forest that mightily spreads its grandeur by the rapids of Ganges. Meaning "beautiful jungle" in Bengali, Sundarban is home to the famous Bengali tiger, Gangetic dolphin and King cobras co-existing with the ubiquitous estuarine crocodile and over a hundred species of fishes and birds.
Also hemmed in Khulna Division is the historical town of Bagerhat, known as the "Historic Mosque City," and famous for housing century-old mosques, with Shait Gumbad Mosque being the most prominent. Visitors can have the chance to meander around Bagerhat's gargantuan Indo-Islamic structures, enigmatic crypt of the kings and consecrated prayer halls.
From Bagerhat mosque-hunting, travelers can proceed to Kushtia, used to be the home of the Nobel laurete Rabindranath Tagore and is now a bustling town: it being one of the most impoverished in Bangladesh despite its prestige is quite paradoxical. A visit to Kushtia entails reading some of Tagore's poetry and appreciating his craft. This is also an opportunity to see some of his paintings and photographs displayed at the Shilaidah Kuthhibari.
Khulna Division Landmarks:
User blogs:
Cheaper galactic spaceliner unveiled
News from http://news.ph.msn.com/top-stories/article.aspx?cp-documentid=3737940 Richard Branson unveiled Monday a commercial spaceliner offering tourists a cheaper chance to experience the thrill of weightlessness and view the splendor of the Earth from space. The British billionaire hopes to offer tickets aboard his spacecraft at a cost of 200,000 dollars each, giving adventurous ... Read full Blog post
Indonesia Eco Tourism
Tour Itenaray Day 01 BALI - LABUAN BAJO – RINCA ISLAND – KOMODO ISLAND (L.D) Pick up from your hotel in Bali and transfer to the airport, for flight to Labuan Bajo (West Flores) for approximately one and half hours. On arrival in Labuan Bajo airport, will be welcomed and met with our local representative or tour guide. Than transfer to the harbour to catch a boat cross to Rinca ... Read full Blog post
San Gimignano and San Pellegrino
Night falls on the flourishing and industrious San Gimignano, its 72 towers stand on the low roofs of the houses lit by the moon. This is not a luxury travel spot but is something you don't see every day. In the distance the clatter of hooves echoed tired in the Via Francigena. The hand of the blacksmith stops beating, the frame of the weaver becomes silent, the streets of the tank only a concert ... Read full Blog post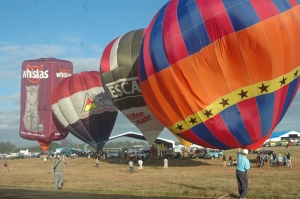 An Aerial fiesta in Clark Pampanga
Its a party in the sky as multi colored hot air balloons piloted ny different pilots from various partso of the world participated in this annual gathering. As early as 5am, the 2,500 hectare aviation complex at Clar Economic Zone in Pampanga was already crammedi with excitement. Clusters of hot air balloon participants busily prepare their own balloons for liftoff as they need to take advantage of ... Read full Blog post