48HourVisit.com

Planning a short visit? Check out

48HourVisit.com

, your online guide for short stays and weekend getaways.

Ad

The Glossary

thanas - "a term used in South Asian countries and is synonymous with police station or precinct."
Cox's Bazar Travel Guide

/
Asia
/
Bangladesh
/
Chittagong Division
/
Cox's Bazar
/ Introduction
Situated at the southeast edge of Bangladesh, Cox Bazar is one of the proud possessions of Bangladesh. The long stretch of white sandy shore, sandwiched between Myanmar and the Indian Ocean, is the longest and the broadest in the country, attracting a sizable crowd the year round to spend a memorable weekend in one of its beachside hotels.
Named after Lieutenant Cox, the beach, which is also a fishing hamlet, is fondly called by the locals as Panowa or "yellow flower" on account of its old name Palongkee (which sounds like "palengke", a term in the Philippines meaning market, somewhat close to the term Bazar).
Visitors will surely be beguiled to dip in its enormous expanse of shark-free azure waters. In addition to the shells, the thatched huts and the hotels, the swimsuit clad bathers also catch the attention of locals and some foreign holidaymakers.
Other than the usual extreme water sports activities such as wind surfing and diving, visitors (mostly women) are seen lying under the sun wanting to achieve a perfect tan. Men, on the other hand, may be found engaged in deep fishing activity hoping to catch fresh oysters, pomfret and soles. Those looking for a more private location to take a dip can get to the secluded beaches of Inani and Himacheri located south of Cox Bazar.
Island hopping can also be included in a daytrip to Sonadia Island, a small moon-shaped island near Cox, which has for years served as a temporary sanctuary of fisherman navigating the sea during the cold months. Here visitors can plunge into the lagoon and the mangrove paradise which is far different from that of Sundarban's mangrove forest. From Sonadia, it is easy to hop to Maheskhali where tourists can marvel at the Adinath Shrine dedicated to the Hindu God Shiva.
Visitors who still have time to linger around Cox Bazaar can make a visit to Ramu, a village near the sea port of Chittagong where they can see the old khyangs and viharas (shrines and temples) housing the great Buddha decked with precious stones. Ramu village is also the home of local Bangladeshi weavers who make native cigars inside the ancient shrines.
User blogs:
Cheaper galactic spaceliner unveiled
News from http://news.ph.msn.com/top-stories/article.aspx?cp-documentid=3737940 Richard Branson unveiled Monday a commercial spaceliner offering tourists a cheaper chance to experience the thrill of weightlessness and view the splendor of the Earth from space. The British billionaire hopes to offer tickets aboard his spacecraft at a cost of 200,000 dollars each, giving adventurous ... Read full Blog post
Indonesia Eco Tourism
Tour Itenaray Day 01 BALI - LABUAN BAJO – RINCA ISLAND – KOMODO ISLAND (L.D) Pick up from your hotel in Bali and transfer to the airport, for flight to Labuan Bajo (West Flores) for approximately one and half hours. On arrival in Labuan Bajo airport, will be welcomed and met with our local representative or tour guide. Than transfer to the harbour to catch a boat cross to Rinca ... Read full Blog post
San Gimignano and San Pellegrino
Night falls on the flourishing and industrious San Gimignano, its 72 towers stand on the low roofs of the houses lit by the moon. This is not a luxury travel spot but is something you don't see every day. In the distance the clatter of hooves echoed tired in the Via Francigena. The hand of the blacksmith stops beating, the frame of the weaver becomes silent, the streets of the tank only a concert ... Read full Blog post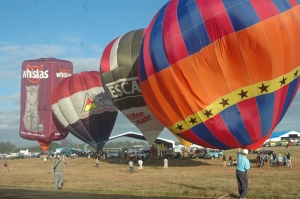 An Aerial fiesta in Clark Pampanga
Its a party in the sky as multi colored hot air balloons piloted ny different pilots from various partso of the world participated in this annual gathering. As early as 5am, the 2,500 hectare aviation complex at Clar Economic Zone in Pampanga was already crammedi with excitement. Clusters of hot air balloon participants busily prepare their own balloons for liftoff as they need to take advantage of ... Read full Blog post