48HourVisit.com

Planning a short visit? Check out

48HourVisit.com

, your online guide for short stays and weekend getaways.

Ad

The Glossary

sebkhas - "is a large enclosed basins fed by an underground drainage."
If Italy is known for being the proponent of the Western classical music tradition called opera, Oran or "The Lions" (from the Berber word "uhran") is famed for being the home of the wild Rai music. Judging from the laidback and liberal atmosphere of the town, there is no doubt that the inventive music movement was born here. However, Rai music is not the only artistic expression that hails from the city - Nobel Prize winner Albert Camus was born here, and so was the famous fashion designer Yves Saint Laurent.
It is a major city in the Mediterranean coast of northwestern Algeria and much of its success is attributed to the French who settled here in 1831. Today, the city serves as a major seaport to Algeria but most of the structures of Oran were built by the Spanish and French.
A good way to start a tour around Oran will be a visit to the Great Mosque built in 1796 to celebrate the liberation of the country from the Spanish. Equally fascinating is the Chateau Neuf which was originally a fort of Sultan Abou Hassan, now being rebuilt into a hotel.
Other worthwhile landmarks to visit include the Bey's Palace (a colossal complex built in 1340's), the Pasha's Mosque, and the Cathedral de Sacré Coeur (now a public library). There is also a main square called Place 1 Novembre which served in the past as a famous meeting place of Napoleon, Foch and d'Armes.
History and archeology buffs will surely be entertained at the Musée National Ahmed Zabana for it has a collection of the narratives created during the battle of independence that took place in the city. The Demaegth Museum, on the other hand, which is quite smaller compared to the Musee National, displays some exhibitions about the European buildings built in Oran along with the prehistoric archaeological relics and natural exhibits of animals found throughout Maghreb.
User blogs:
Cheaper galactic spaceliner unveiled
News from http://news.ph.msn.com/top-stories/article.aspx?cp-documentid=3737940 Richard Branson unveiled Monday a commercial spaceliner offering tourists a cheaper chance to experience the thrill of weightlessness and view the splendor of the Earth from space. The British billionaire hopes to offer tickets aboard his spacecraft at a cost of 200,000 dollars each, giving adventurous ... Read full Blog post
Indonesia Eco Tourism
Tour Itenaray Day 01 BALI - LABUAN BAJO – RINCA ISLAND – KOMODO ISLAND (L.D) Pick up from your hotel in Bali and transfer to the airport, for flight to Labuan Bajo (West Flores) for approximately one and half hours. On arrival in Labuan Bajo airport, will be welcomed and met with our local representative or tour guide. Than transfer to the harbour to catch a boat cross to Rinca ... Read full Blog post
San Gimignano and San Pellegrino
Night falls on the flourishing and industrious San Gimignano, its 72 towers stand on the low roofs of the houses lit by the moon. This is not a luxury travel spot but is something you don't see every day. In the distance the clatter of hooves echoed tired in the Via Francigena. The hand of the blacksmith stops beating, the frame of the weaver becomes silent, the streets of the tank only a concert ... Read full Blog post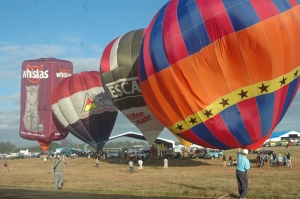 An Aerial fiesta in Clark Pampanga
Its a party in the sky as multi colored hot air balloons piloted ny different pilots from various partso of the world participated in this annual gathering. As early as 5am, the 2,500 hectare aviation complex at Clar Economic Zone in Pampanga was already crammedi with excitement. Clusters of hot air balloon participants busily prepare their own balloons for liftoff as they need to take advantage of ... Read full Blog post