48HourVisit.com

Planning a short visit? Check out

48HourVisit.com

, your online guide for short stays and weekend getaways.

Ad

The Glossary

casbah - "a walled citadel or fortress in Algeria and of many North African cities and town, also called a traditional clustered unit."
Constantine Travel Guide

/
Africa
/
Algeria
/
Constantine
/ Introduction
It is not to be mistaken as a city named after St. Constantine the Great or as the Roman Emperor Constantine II. However, a visit to the great city of Constantine, hailed as the "City of Cliffs and Bridges," is like viewing some parts of Arizona's Grand Canyon; the only significant difference is that it is nestled in the heart of the Black Continent that is Africa. The city is proud not only of its profound history but also of its spectacularly set stone mountain bridges where houses are built precariously at the top of the deep Oued Rhumel Gorge which, spanned by its seven bridges, offers perfect scope for daring bungee jumpers.
A city with strong Islamic traditions, Constantine is a one of the places in North Africa that is built by the creative hands of nature and honed by the dexterity of man. Today, the city still retains much of its old charm, having some worthwhile landmarks such as the Pont Sidi M'Cid, regarded as one of the city's iconic monuments that symbolizes the stately image the city had during the time of the Numidians. Any visitor is free to trek the gentle slopes of the Sidi M'Cid where they can have the best view of one of Algeria's most stunning sights.
Although Constantine today doesn't have much to offer other than its few humble landmarks like the 13th century Grand Mosque, the Monument to the Dead, the Palace of Ahmed Bey and the Mellah Slimane Bridge, it still remains popular among foreigners and also in the neighboring cities.
A trip to the Musée Cirta Constantine is a good chance to get a glimpse of the city's vibrant past. The museum—which has an exhibition hall divided into three sections, namely fine arts, ethnographic and archeological section—displays some of the city's rare collections which show the absolute richness of Constantine's culture and history. The attractions range from the excavated relics around the city to its neighboring town Tiddis. The fine arts section displays some sculptures and paintings which date back from the early 17th century to the 20th century. The archeological section, on the other hand, showcases a comprehensive overview of the city's history from prehistory to the present while the ethnographic section exhibits some historical artifacts which include carpets, jewelry, Antique firearms and traditional dress.
User blogs:
Cheaper galactic spaceliner unveiled
News from http://news.ph.msn.com/top-stories/article.aspx?cp-documentid=3737940 Richard Branson unveiled Monday a commercial spaceliner offering tourists a cheaper chance to experience the thrill of weightlessness and view the splendor of the Earth from space. The British billionaire hopes to offer tickets aboard his spacecraft at a cost of 200,000 dollars each, giving adventurous ... Read full Blog post
Indonesia Eco Tourism
Tour Itenaray Day 01 BALI - LABUAN BAJO – RINCA ISLAND – KOMODO ISLAND (L.D) Pick up from your hotel in Bali and transfer to the airport, for flight to Labuan Bajo (West Flores) for approximately one and half hours. On arrival in Labuan Bajo airport, will be welcomed and met with our local representative or tour guide. Than transfer to the harbour to catch a boat cross to Rinca ... Read full Blog post
San Gimignano and San Pellegrino
Night falls on the flourishing and industrious San Gimignano, its 72 towers stand on the low roofs of the houses lit by the moon. This is not a luxury travel spot but is something you don't see every day. In the distance the clatter of hooves echoed tired in the Via Francigena. The hand of the blacksmith stops beating, the frame of the weaver becomes silent, the streets of the tank only a concert ... Read full Blog post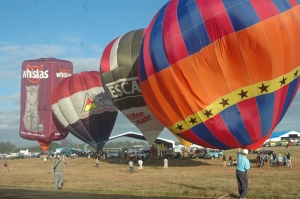 An Aerial fiesta in Clark Pampanga
Its a party in the sky as multi colored hot air balloons piloted ny different pilots from various partso of the world participated in this annual gathering. As early as 5am, the 2,500 hectare aviation complex at Clar Economic Zone in Pampanga was already crammedi with excitement. Clusters of hot air balloon participants busily prepare their own balloons for liftoff as they need to take advantage of ... Read full Blog post