48HourVisit.com

Planning a short visit? Check out

48HourVisit.com

, your online guide for short stays and weekend getaways.

Ad

The Glossary

medersas - "Islamic schools in Algeria."
Beni Isguen Travel Guide

/
Africa
/
Algeria
/
Beni Isguen
/ Introduction
Inside the limestone outcrop of M'zab, a UNESCO World Heritage Site, is Beni Isguen, an Islamic city notable for its Mozabite or Berber-speaking population, as well as for its nomad Ibadi community.
Established in the 14th century, Beni Isguen is known for its fortifications and stockades that serve as the wall that protects the whole city from intruders. At the heart of the city lies its trademark: houses with decorative holes on the roof.
Like in the rest of Algeria, the locals of Beni Isguen give a high regard to education, specifically the sciences. Nonetheless, if advancement in science and technology happens fast in other parts of Algeria, in Beni Isguen, the people remain steadfast to their ages-old customs and traditions.
Among the highlight of a visit to this side of Algeria is the Turkish tower Borj Cheikh el-Hadj, where visitors can attain a panoramic view of the whole city just by climbing all the way to the summit. Another site worthy of attention is Palmeraie, a manicured garden that is considered Eden-like for its rolling greens and luscious dates, grapes and figs.
From Palmeraie, visitors might opt to drop by at the marketplace of Beni Isguen to witness the daily auction at the Marcha a la Criee or to simply settle in the one of the market's cafés where locals can be observed selling all sorts of curios and local souvenirs such as Algerian rugs and handicrafts.
The town also has a namesake museum that highlights a model of the traditional Mozabite house, complete with kitchen, a marriage bed, and some carpet weaving equipment the native Ibadites use.
User blogs:
Cheaper galactic spaceliner unveiled
News from http://news.ph.msn.com/top-stories/article.aspx?cp-documentid=3737940 Richard Branson unveiled Monday a commercial spaceliner offering tourists a cheaper chance to experience the thrill of weightlessness and view the splendor of the Earth from space. The British billionaire hopes to offer tickets aboard his spacecraft at a cost of 200,000 dollars each, giving adventurous ... Read full Blog post
Indonesia Eco Tourism
Tour Itenaray Day 01 BALI - LABUAN BAJO – RINCA ISLAND – KOMODO ISLAND (L.D) Pick up from your hotel in Bali and transfer to the airport, for flight to Labuan Bajo (West Flores) for approximately one and half hours. On arrival in Labuan Bajo airport, will be welcomed and met with our local representative or tour guide. Than transfer to the harbour to catch a boat cross to Rinca ... Read full Blog post
San Gimignano and San Pellegrino
Night falls on the flourishing and industrious San Gimignano, its 72 towers stand on the low roofs of the houses lit by the moon. This is not a luxury travel spot but is something you don't see every day. In the distance the clatter of hooves echoed tired in the Via Francigena. The hand of the blacksmith stops beating, the frame of the weaver becomes silent, the streets of the tank only a concert ... Read full Blog post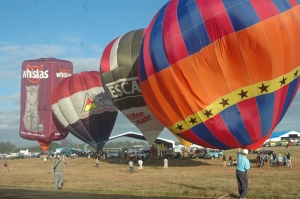 An Aerial fiesta in Clark Pampanga
Its a party in the sky as multi colored hot air balloons piloted ny different pilots from various partso of the world participated in this annual gathering. As early as 5am, the 2,500 hectare aviation complex at Clar Economic Zone in Pampanga was already crammedi with excitement. Clusters of hot air balloon participants busily prepare their own balloons for liftoff as they need to take advantage of ... Read full Blog post