48HourVisit.com

Planning a short visit? Check out

48HourVisit.com

, your online guide for short stays and weekend getaways.

Ad

The Glossary

medersas - "Islamic schools in Algeria."
"Algiers the White," as it is fondly called due to the glistening whiteness of its buildings in contrast to the deep blue sea of the Mediterranean, is the capital of Algeria, noted for its winding alleyways, cashbah quarters, medersas, mosques and cathedrals which together give a Maghreb feel to it.
Once a walled city during the heydays of the French occupation; Algiers was then surrounded by colossal fortifications, parapets, and ditches with the forts of Bab Azoun at its south and Bab-el Qued to its north. However, at the turn of the 20th century all the fortifications were demolished to give way to the towering commercial complexes and skyscrapers.
Strangely enough, Algiers is still called "La Blanche" on the strength of some major facelifts done in some of its buildings. Visitors can still gape at the whitewashed buildings, particularly the onion-domed cathedral and the UNESCO World Heritage Site Kashbah, which stands in one of the promontories of Algiers' coastal side overlooking the port and the Mediterranean Sea. Those interested in history and culture might want to visit the Kasbah which houses the remains of the ruined citadel, an old mosque and an Ottoman-style palace which gives a glimpse on how advanced the architecture and engineering had been during those days and how artistic the people who inhibited the region at that time were.
Apart from the Kashbah there are other notable landmarks found in the city like the grand mansion of Dar Hassan Pacha, the Palais des Rais and the colonial French mosques of Djemaa el-Djedid, Djemaa el-Kebir, Djemaa Ketchoua and Djemma Ali Bitchine.
Also worth visiting are the several museums tucked around Algiers which recount the history of the city from the past to the preset. These include the 18th century Bardo Museum of Prehistory and Ethnography, which served as the residence of the Tunisian prince deported to Algiers during the colonial times. It has been converted to a museum that displays fossils, pottery and stones. There are also the Musée des Beaux Arts, the Musée National du Moudjahid and the Museum of Popular Arts & Traditions, the last housing an intriguing collection of traditional Algerian arts and crafts.
Algiers Landmarks:
User blogs:
Cheaper galactic spaceliner unveiled
News from http://news.ph.msn.com/top-stories/article.aspx?cp-documentid=3737940 Richard Branson unveiled Monday a commercial spaceliner offering tourists a cheaper chance to experience the thrill of weightlessness and view the splendor of the Earth from space. The British billionaire hopes to offer tickets aboard his spacecraft at a cost of 200,000 dollars each, giving adventurous ... Read full Blog post
Indonesia Eco Tourism
Tour Itenaray Day 01 BALI - LABUAN BAJO – RINCA ISLAND – KOMODO ISLAND (L.D) Pick up from your hotel in Bali and transfer to the airport, for flight to Labuan Bajo (West Flores) for approximately one and half hours. On arrival in Labuan Bajo airport, will be welcomed and met with our local representative or tour guide. Than transfer to the harbour to catch a boat cross to Rinca ... Read full Blog post
San Gimignano and San Pellegrino
Night falls on the flourishing and industrious San Gimignano, its 72 towers stand on the low roofs of the houses lit by the moon. This is not a luxury travel spot but is something you don't see every day. In the distance the clatter of hooves echoed tired in the Via Francigena. The hand of the blacksmith stops beating, the frame of the weaver becomes silent, the streets of the tank only a concert ... Read full Blog post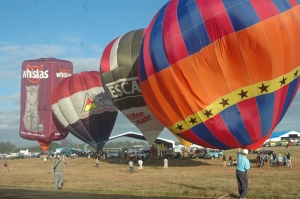 An Aerial fiesta in Clark Pampanga
Its a party in the sky as multi colored hot air balloons piloted ny different pilots from various partso of the world participated in this annual gathering. As early as 5am, the 2,500 hectare aviation complex at Clar Economic Zone in Pampanga was already crammedi with excitement. Clusters of hot air balloon participants busily prepare their own balloons for liftoff as they need to take advantage of ... Read full Blog post