Population: 4,017,095
Dialing Code: +961
Languages: Arabic (official), French, English, Armenian
Religions: Muslim 59.7% (Shia, Sunni, Druze, Isma'ilite, Alawite or Nusayri), Christian 39% (Maronite Catholic, Greek Orthodox, Melkite Catholic, Armenian Orthodox, Syrian Catholic, Armenian Catholic, Syrian Orthodox, Roman Catholic, Chaldean, Assyrian, Copt, Protes
Internet TLD: .lb
Located: Middle East, bordering the Mediterranean Sea, between Israel and Syria
Area: 10,400 sq km
Residents with HIV: 3,000
Literacy: 87.4%
Comparative Size: about 0.7 times the size of Connecticut
Nationality Noun: Lebanese (singular and plural)
Nationality Adjective: Lebanese
currencyLBP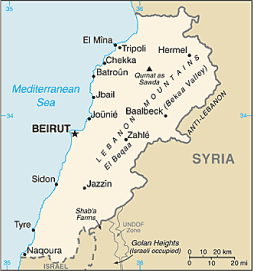 Lebanese sweets can sometimes taste bitter especially when the country is gripped by fighting and begins to fall off from the tourist map. The advent of civil war in 1975 caused chaos and mayhem to Lebanon, causing serious damage to its languishing capital Beirut, known by its charming appellation, "Paris of Middle East."
Today, the country is slowly recovering from its crippled state; the old joie de vivre returns to its metropolis now reborn as a night-life hot spot. Tourists can now lounge freely and smoke hooka or shisha (water pipe for smoking) in the smoking dens as the strong aroma of fine coffee permeates the souks and the imam narrates the holy Quran inside the sacred mosque. No wonder Khalil Gibran was inspired to write copious poetry about the beguiling country. Many other famous poets and playwrights have written about the glories of Lebanon as well.
If in the city Beirut neon lights dance from dusk to dawn, the city of Tyre offers a glimpse of its ancient grandeur - a combination of coastal bounty and beauty that made it a prey to foreign aggressions starting from the Greeks to Romans, now with the Syrians and Israelis. A large mass of relics from different periods have been unearthed including those from the Byzantine and Crusader eras.
Beirut, Lebanon's capital, is small and can be explored by foot. Letting the friendly locals serve as your tour guides brings half the fun to your adventures. With this in mind, head south from the northern-most tip of the city, and the palm trees that line the corniche (road on a ledge) will slowly give way to the magnificent Roman ruins of the Sun City. The area is gated off, with only a few granite columns to hint at its former glory.
From here, a brisk walk will take one to the impressive expanse of Romano-Byzantine ruins of Baalbek overlooking the Mediterranean where remains of a souk and an athlete's training ground are located. Across are the colonnade ala Parthenon and the public baths on both of its sides.
Ancient cities, Roman ruins, deluxe resorts, and the pastoral touch of the countryside are a few of the many charming aspects of Lebanon.