Population: 772,298
Dialing Code: +592
Languages: English, Amerindian dialects, Creole, Caribbean Hindustani (a dialect of Hindi), Urdu
Religions: Hindu 28.4%, Pentecostal 16.9%, Roman Catholic 8.1%, Anglican 6.9%, Seventh Day Adventist 5%, Methodist 1.7%, Jehovah Witness 1.1%, other Christian 17.7%, Muslim 7.2%, other 4.3%, none 4.3% (2002 census)
Internet TLD: .gy
Located: Northern South America, bordering the North Atlantic Ocean, between Suriname and Venezuela
Area: 214,970 sq km
Residents with HIV: 13,000
Literacy: 98.8%
Comparative Size: slightly smaller than Idaho
Nationality Noun: Guyanese (singular and plural)
Nationality Adjective: Guyanese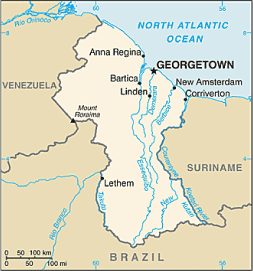 On the northeast corner of the South American continent lays a small country virtually untouched by humankind. Jaguars still roam the rain forest. The unearthly cries of troupes of howler monkeys echo through the trees. The Giant River Otter, the Black Caiman, and the Arapaima (the largest freshwater fish in the world) swim in the rivers called Rupununi. Flashes of scarlet, yellow and blue burst through the forest's intense green as macaws fly like arrows across a clearing in the canopy. Toucans and Harpy Eagles, along with 698 other species of birds, swoop through the trees, while the beautiful but elusive Guyana Cock-of-the-Rock lingers around the waters of the Kaieteur Falls. These are just some of the reasons why this small country, called Guyana, is one of South America's best frontiers for adventure travel and exploration.
Perched on the north-east corner of the South American continent, Guyana stretches 450 miles from its long Atlantic coastline into a dense equatorial forest and the broad savannah of the Rupununi. The forests can be reached by boat, light aircraft or truck. Life there is dominated by mighty rivers, including the Demerara, the Berbice and the Essequibo, all serving as essential highways into the rain forests and jungles of the interior. In the middle of it all is Kaieteur Falls, where the 400-foot wide Potaro River plunges 741 feet downward from the Pakaraima Plateau, creating one of the world's great waterfalls. Other attractions in the area are the Orinduik Falls, the Marshall Falls, the Kaieteur Gorge and the remote Mount Roraima, which all became inspirations of Scottish author Arthur Conan Doyle's 1999 sci-fi novel, The Lost World.
Outside the country's tropical carpet is the capital and primary port called Georgetown, a former English settlement now dotted with modern hotels, colonial buildings, and tree-lined boulevards. The main attraction here is the St. George's Cathedral -the tallest wooden building in the world.