Population: 5,250,275
Dialing Code: +358
Languages: Finnish 91.2% (official), Swedish 5.5% (official), other 3.3% (small Sami- and Russian-speaking minorities) (2007)
Religions: Lutheran Church of Finland 82.5%, Orthodox Church 1.1%, other Christian 1.1%, other 0.1%, none 15.1% (2006)
Internet TLD: .fi
Located: Northern Europe, bordering the Baltic Sea, Gulf of Bothnia, and Gulf of Finland, between Sweden and Russia
Area: 338,145 sq km
Residents with HIV: 2,400
Literacy: 100%
Comparative Size: slightly smaller than Montana
Nationality Noun: Finn(s)
Nationality Adjective: Finnish
currencyEUR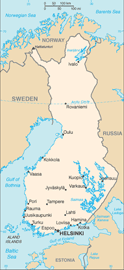 Lying above the Arctic Circle, about a quarter of Finland is the land of the midnight sun. At its northernmost tip, the sun does not set for 73 days during summers and during winters it does not rise for 51 days. However, winter is the time when spectacular natural phenomenon the Northern Light can be seen from this part of the country.
The country is known for its unspoiled nature and numerous lakes, even though it is highly developed. Finland is a Scandinavian country bordering Russia on the East, Norway on the North and Sweden on the West. The country formed a part of Sweden till 19th Century. Subsequently, it came under the Russians before attaining independence in 1917. During World Ward II it fought against both Soviet Russia and Germany one after another. Finland has made remarkable transition from a farm to modern industrialized economy in the second part of twentieth Century .
Helsinki, the country's capital and a seaside city, is located in Southern Finland. It was modeled by Tsars of Russia to be a miniature replica of St. Petersburg. Suomenlinna Maritime Fortress, the largest maritime fortress of the world, is an important landmark of this bustling city. Helsinki is well know for its buildings of characteristic Finnish architecture. The Lutheran Cathedral is the finest example of this.
The ski centers of Messila and Serena provides an unforgettable skiing experience during winters. Flat landscape of Southern Finland make it a cyclist's heaven. One can also escape to the tranquility of one of the lush islands of Aland archipelago. Turku, on Finland's south western coast, is the country's oldest city. It attracts visitors for its rich tradition and cultural heritage, which include medieval castles and cathedrals.
Western Finland is the land of beautiful beaches, fabulous sand dunes and lush pastures. Picturesque sandy beach of Yyteri in Pori is a major attraction. Pori is also cultural hub of this region. The Kvarken Archipelago, a UNESCO World Natural Heritage site, where land is slightly uplifted above sea every year, is popular among tourists. So are cruises from Kokkola (central Ostrobothnia) to the lush islands of the Seven Bridges archipelago. Oulu, also regarded as Finland's Silicon Valley, is a great shopping destination.
There is more water than land in Finland's south east Lake District. Tampere (Lenin museum), Savonlinna (castle), Valamo (smoke sauna) and Karelia (unspoiled wilderness) are notable attractions of this region. The Kajaani is excellent for activities such as fly-fishing, quad biking and cross country skiing.
Finnish Lapland, also called 'the top of the world', is unmatched in scenic beauty and active tourism opportunities. It is no wonder that Rovaniemi, the capital of this region, is popularly believed to be the home to Santa Claus. Mountains here are ideal for bikers, while its river system provides the best of winter sports opportunities.