Population: 1,299,371
Dialing Code: +372
Languages: Estonian (official) 67.3%, Russian 29.7%, other 2.3%, unknown 0.7% (2000 census)
Religions: Evangelical Lutheran 13.6%, Orthodox 12.8%, other Christian (including Methodist, Seventh-Day Adventist, Roman Catholic, Pentecostal) 1.4%, unaffiliated 34.1%, other and unspecified 32%, none 6.1% (2000 census)
Internet TLD: .ee
Located: Eastern Europe, bordering the Baltic Sea and Gulf of Finland, between Latvia and Russia
Area: 45,226 sq km
Residents with HIV: 9,900
Literacy: 99.8%
Comparative Size: slightly smaller than New Hampshire and Vermont combined
Nationality Noun: Estonian(s)
Nationality Adjective: Estonian
currencyEEK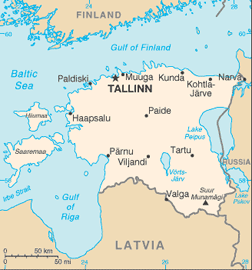 Estonia is a small country in Europe's Baltic region. It is bordered by Latvia and Russia and has Baltic Sea and Gulf of Finland coastline. Though small in area, Estonia packs amazing variety to catch the fancy of even the travelers from large countries. This variety is discernable in its landscape, seasons and flora, besides its cosmopolitan centers, which coexists perfectly with medieval castles. Estonia had been under control of Germans, Danes, Swedes, Poles and Russians since 13th Century, before attaining independence from Russia in 1918. However, the joys of independence were short lived as Russians again occupied Estonia in 1940. The country regained its independence in 1991.
The most interesting thing about Estonia is that its various attractions are inseparable from its history. Tallinn, the capital of Estonia located on its northern coast, is a historical town. The remarkably well preserved Old City of Tallinn is its main attraction. It is a walled town with 26 towers. Toompea Hill, the tower of Oleviste Church and Town Hall provide a bird's eye view of the city. Toompea Castle, built in 13th Century by the Danish, now houses Estonian parliament. The Dominican St. Catherine's Monastery, dating back to 13th Century, is also a popular attraction of Tallinn.
Tartu, the second largest city of Estonia, is located in its southern part. The University building, St. John's Church and Town Hall are important attractions of this city. As much as heritage, Estonia is well endowed with natural beauty. Lake Peipsi, located east of Tartu, is the fourth largest lake of Europe. Located near Tallinn, the Jagala Falls is the country's largest and one of the most picturesque sights. Karula National Park, Lahemaa National Park, Matsalu National Park, Soomaa National Park and Vilsandi National Park are the best places where one can have tryst with the nature at her best.
Estonia has more than 1,500 islands and islets. Saaremaa and Hiiumaa, two of the largest islands in the Baltic Sea, are hot spots for eco tourism and adventure tourism. Western Estonia, with its breathtaking landscape and beautiful beaches, offers endless opportunities for activities such as hiking, canoeing, bird watching, horse back riding and golfing.