Population: 309,156
Dialing Code: +242
Languages: English (official), Creole (among Haitian immigrants)
Religions: Baptist 35.4%, Anglican 15.1%, Roman Catholic 13.5%, Pentecostal 8.1%, Church of God 4.8%, Methodist 4.2%, other Christian 15.2%, none or unspecified 2.9%, other 0.8% (2000 census)
Internet TLD: .bs
Located: Caribbean, chain of islands in the North Atlantic Ocean, southeast of Florida, northeast of Cuba
Area: 13,940 sq km
Residents with HIV: 6,200
Literacy: 95.6%
Comparative Size: slightly smaller than Connecticut
Nationality Noun: Bahamian(s)
Nationality Adjective: Bahamian
currencyBSD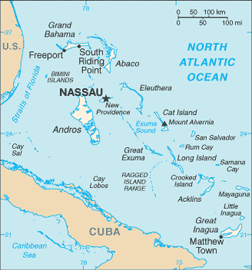 The Bahamas is a Caribbean archipelago southeast of the United States. Bimmi, an island of the archipelago nearest to the United States, is just 81 kilometers off the coast of Florida. In fact, the Bahamas is not one destination, but many. The archipelago has seven Hundred Islands and two thousand cays, a majority of which are uninhabited. Christopher Columbus was the first European to discover the island of San Salvador in the southeastern Bahamas in 1492. The Bahamas has a notorious past. It was a den of sea pirates before becoming a British colony in 1718. The Bahamas became independent in 1973. Beaches in Bahama are characterized by white sand and crystal clear waters.
Nassau is the capital of the Bahamas as well as its commercial and entertainment nerve center. It showcases Victorian mansions, ancient fortresses and elegant architecture existing harmoniously with upmarket hotels, cabaret shows and casinos. Paradise Island, east of Nassau, is among the most glamorous resorts in the world. Western Esplanade, Saunders, Sandyport, Montague, Paradise and Cable are the well-known beaches in this island.
The Island of Grand Bahama is a hub for sporting actions. Freeport/Lucaya is the cosmopolitan center of Grand Bahama. The island is popular among tourists as it has both activity and secluded beaches. Activity beaches in Grand Bahama are Lucayan Beach, William Town Beach and Xanadu Beach. Secluded beaches include Gold Rock Beach and Paradise Cove Beach.
The Bahamas offers endless possibilities of water adventure and sports. There are as many as 25 diving destinations here. The island provides an ideal sailing experience. With over 5% of the earth's reef mass the Bahamas is a delight for snorkelers. There are excellent facilities for other water activities like fishing, swimming and surfing also.
The Islands of Great and Little Inagua have desert-like climate and are ideal for eco-tourism. These islands are desolate and are known for wild terrain. Lake Windsor in the center of the island is the mating ground of Flamingos. The Inagua National Park is home of other rare bird species and turtles. Some other popular islands of the Bahamas are Cat Island, Long Island, Eleuthera and Ragged Island.