Population: 48,508,972
Dialing Code: +82
Languages: Korean, English widely taught in junior high and high school
Religions: Christian 26.3% (Protestant 19.7%, Roman Catholic 6.6%), Buddhist 23.2%, other or unknown 1.3%, none 49.3% (1995 census)
Internet TLD: .kr
Located: Eastern Asia, southern half of the Korean Peninsula bordering the Sea of Japan and the Yellow Sea
Area: 98,480 sq km
Residents with HIV: 13,000
Literacy: 97.9%
Comparative Size: slightly larger than Indiana
Nationality Noun: Korean(s)
Nationality Adjective: Korean
currencyKRW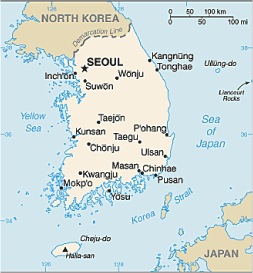 South Korea, for all its Confucianist beliefs and differences with neighbor North Korea, is perhaps most known as a country that thinks forward. Indeed, it has both feet thoroughly in the modern age - home to such high-profile companies like Samsung, LG, and Hyundai. Everything here is in a "hurry, hurry" mode: bustling with urban life, traffic-riddled streets, and an unquenchable desire for technological advancement.
No other place in South Korea embodies this attitude more than its capital Seoul, which is the second largest metropolitan area in the world. It is a hotspot for high-tech technologies, with some of the tallest buildings on the planet, high-speed subway rails, and futuristic IT and multimedia facilities. Visitors to the country, as a result, find it exciting and fast-paced.
Neglected countryside
Outsiders, though, often fail to realize that South Korea is a haven for natural beauty as well. A tour to its underappreciated countryside will reveal as much. Perhaps as a result of being secluded from the world for much of its history, the country has been able keep its natural resources unspoiled and largely intact. Hiking tours take one through serene landscapes like mountains, rice paddies, forest, and lakes where it is highly unlikely to find a lot of travelers.
Aside from the volcanic landscapes found in the popular holiday island of Jejudo, South Korea also has to offer the 1,700-strong islands of the Dadohae Haesang National Park and the mountains and forests of the Seoraksan National Park.
Preserving a culture
For all its advancements and innovations, South Korea has remained grounded both in culture and sociality. Thus, it is one of the rare types that have been able to embrace the modern times without losing sight of their traditions and historical heritage. Take for instance their social relations, which are still deeply rooted in Confucianism, as well as the perfectly-preserved artifacts and royal tombs in the ancient cities of Gyeongju and Buyeo.
A taste of the rural life in South Korea is best experienced in the lovely port town of Busan, with its bustling markets and shops, and Gangwon-do with its traditional villages.